About Us – Opticians based in Fermoy, North Cork
Feeney Opticians has been in Fermoy for over 20 years, having been founded as Dougan's Opticians. We are happily looking after the eyecare needs of the residents of North Cork as well as neighbouring counties of Waterford, Limerick and Tipperary.
As an independent optician we offer a comprehensive choice of products and services to our patients including:
Sight Tests
Contact Lens Checks
Diabetic Screening
Glaucoma Screening
Low Vision Aid exams
Frames
Sunglasses
Contact lenses
Low Vision Aids
We pride ourselves on our customer service – the customer always comes first! As your optician, our goal is to provide you with the highest quality eyecare and service.
Using state-of-the art technology, our optometrists are trained to give you the most thorough examination and advise on the most suitable products for your eye health. We aim to do this with the support of our knowledgeable and friendly staff.
We have a wide selection of frames including Gant, Morgan, Skechers, Hero and Barbour to name but a few as well as a great range of contact lenses to meet your eyecare needs.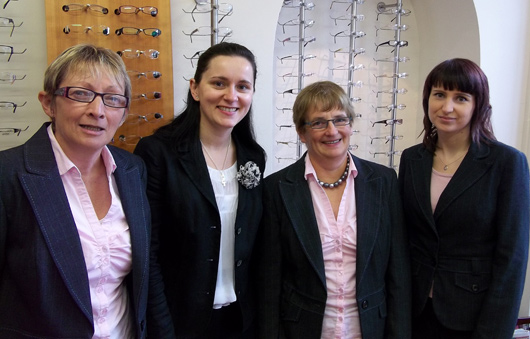 Since 2011, Feeney Opticians has been managed by optometrist Jennifer Feeney. She has refurbished the premises, modernised the layout, re-equipped the consulting room, introduced computerised systems and set up a workshop for the manufacturing and repair of spectacles.
Jennifer has a BSc MCOptom from the University of Wales in Cardiff. She has worked in practices in Wales and Ireland before taking over Feeney Opticians. She has additional qualifications including Low Vision accreditation from WOPEC, Welsh Eye Health Examination (WEHE) and Primary Eyecare Acute Referral Scheme (PEARS) accreditation. She ensures she is up to date on all aspects of health care by regularly taking part in continuing education and training provided by the Association of Optometrists Ireland as well as the College of Optometrists, UK.
Jennifer is ably supported by our experienced optical assistants Mary Beecher, Sandra Vaitkuniene and Geraldine Horgan.
Feeney Opticians – Gallery