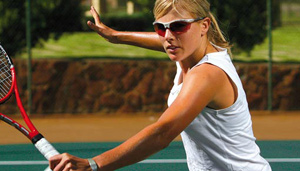 Accurate vision is essential in all aspects of our lives, but particularly sports, where rapid response can be essential to both our protection and performance.
Generally spectacle lenses are made out of plastic. However, sometimes a tougher material is required for safety glasses or sports glasses/goggles. Polycarbonate is up to 10 times tougher than regular plastic and therefore very useful for sport eyewear e.g. squash goggles. It also has the advantage of being thinner and lighter than regular plastic lenses.
We can provide prescription sports eyewear such as prescription swimming goggles, ski goggles, cycling wraparounds and advise on sports tints for e.g. golf, shooting.